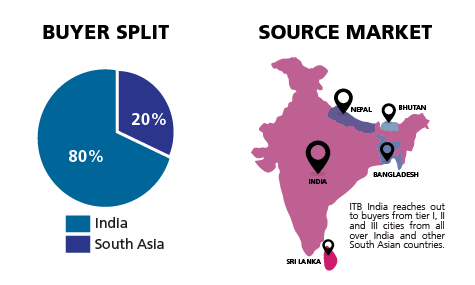 ITB India's hosted buyers are classified as serious travel procurement professionals with a keen objective to explore new business frontiers, sign deals, explore travel products/destinations and negotiate pricing/packages with exhibitors.
Buyers are decision makers of the Indian and South Asian outbound and domestic markets as well as having a significant track record in organising trips/events in several outbound destinations.
Note: Buyer packages are applicable to buyers based in India and South Asia only.

Titles of Buyers
C-level executives
Corporate companies with incentive programmes
Destination management companies (outbound)
Event planners
Incentive/motivation houses
International associations
Meeting planners
Professional conference organisers (PCO)
Professional event organisers (PEO)
Travel agents
and more...

Buyer registration for ITB India 2023 is now closed.
Find out why you should attend ITB India as a buyer.
For more information about buyer's programme, contact us at buyer@itb-india.com.

Not a travel buyer?
We welcome everyone in the travel trade industry and related companies including advisors, consultants and academics. Feel free to purchase a visitor ticket here.